The Twilight Saga is definitely a girls' movie. Andrew and Isaac were already shifting their sitting positions. Isaac even took out his phone. Andrew told me that so he must have been looking everywhere but the screen occasionally. Wakakaka.
Seriously, you shouldn't watch this movie if you can't stand slow movies. I think girls can watch this, just not the males, guys.
If you are on a budget, it is advisable for you to skip this movie too...
My gripes:
I think they hired the wrong people to do the makeup and hair, even characters in horrible movies look realistic. (since the first movie until now)

Maybe there were censored scenes, or the editing and continuation is just simply done.

I'm sure some Twilight fans will agree with me that Stephenie Meyer was mad to make Jacob imprint on Bella and Edward's child..
Ok la I explain what imprinting is.
When a person imprints on someone else, that someone becomes their soul mates and their everything laa (so to say).
This someone will be on your mind 24/7 whether you like it or not and you have the urge to protect them when they are in danger.
You have no voluntary control on who you imprint on.
The downside is you can imprint on anyone else of any age.
Hmm..sounds like a curse. Double whammy.
You can be in a relationship with your boyfriend or girlfriend and still imprint on someone else.
This happened to Leah Clearwater (the female wolf in BD) and Sam Uley (leader of the wolf pack). They were together since high school but one day Sam imprinted on Leah's cousin, Emily Young (she has scars on her face and you have seen her in New Moon).
When you are in a wolf-form, somehow I think you can hear each other's minds.
This also explains why Leah told Jacob she doesn't want to return to the wolf pack and choose to join Jacob's 'wolf pack' with her younger brother, Seth.
Different wolf packs can't hear each other in wolf-forms. Hahahah.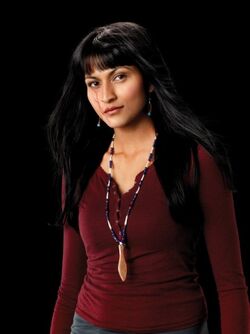 Emily Young
Now we come to the movie. In the Quileute tribe in the movie (it's based on a real Quileute tribe), they cannot kill whoever their brothers and sisters imprinted on..
so the baby is safe.
The upside:
It is definitely better than New Moon and Eclipse (hallelujah. I don't like Chris Weitz. He spoiled The Golden Compass aka Northern Lights too. Hahaha.)

I think the acting is better in way.

Of course, the settings are beautiful.

Fighting scene was better for me.

The wedding dress is nice.
The funnies:
The last scene when Bella's ribcage was repaired by the venom.. LOL. It was like her boobs suddenly got bigger. Hahahaha. Her ribcage was shattered and broken while giving birth so it collapsed into her chest. Obviously when it is repaired, it will kembang keluar. Hahahaha.

Bella drinking blood from the cup. Smart Jacob.

Bella's friends. Funny without trying to be funny.

The speeches during the wedding! XD XD

When she tried to do a sexy and alluring pose in lingerie and Edward laughed at her. :P
Anyway the author, Stephenie Meyer, has a cameo appearance at the wedding.
Overall:
Don't take this movie seriously and you should (because I'm not too sure about you) enjoy watching it.
If you're the serious kind, skip it.
If you're not sure if you're a serious person or a funny/ humorous person, this movie is a good indicator.
The movie was fine for me. I like the funny parts.